Organic Argan oil manufacturers Argan oil manufacturers use pure organic Argan extracts for virgin oil. The fresh and high quality makes sure you get the best of Argan oil with Tripe Extra Virgin Grade 1 Oil. The company imports their raw product from south of Morocco. These are then handpicked according to the quality of nuts during the warm season.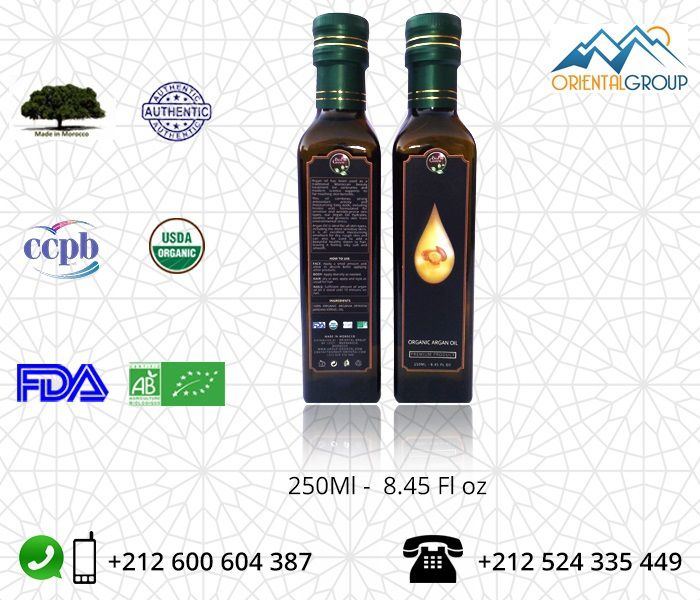 We use fresh argans which are only 2 months old. Mostly, the market uses 18-24 months old argan. But Argan oil manufacturers have devoted themselves to provide you with the best. Argan oil is a perfect beauty product as it moisturizes your skin while it reduces the stretch marks, scars, and speckles.
· Full of Vitamin E ,Omega 6 and Fatty Acids

· A Natural Antioxidant that fights off the signs of aging and acne

· Increase hair mass and improves the health of scalp

· Moisturizes Dry Skin
Packaging details : 40ml, 60ml, 100ml ,125ml, in PET plastic bottle with pump 250ml, 500 ml, 1Liter, 10 Liters, 20 liters,25 liters ,33 Liters in drum with cap Argan Oil can be 30ml, 40ml,50ml, 60ml, 100ml ,250ml,500 ml in amber or trasparent glass bottle with cap/dropper
Min.Order Quantity of argan oil: 5 Liter
Supply Ability of argan oil: 20000 Liter/Liters of argan oil per Week
Port: FOB Casablanca /Tanger MED / Agadir
Payment Terms: L/C,T/T, ,Western Union,MoneyGram/Paypal
• Place of Origin: Argan Oil from Morocco
• Brand Name: Twichya or private labeling
• Model Number: Cold pressed
• Use: Body , face and hair
• Certfication: MSDS ,CCPB /NOP USDA PROGRAM
• Feature: Anti-Aging, Moisturizer, Nourishing, Skin Revitalizer
• Main Ingredient: Argania Spinosa kernel (argan oil)
• Cultivation type: Organic
• Processing type: Cold pressed
• Delivery Detail: 15 days after confirmation of all details and deposit
N°200 Lot Elmassar,Sidi Ghanem Industrial Estate Route de Safi, 40 000 Marrakech, MOROCCO